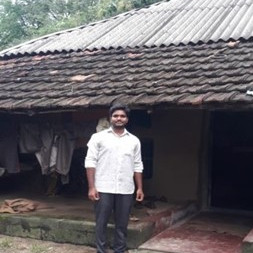 Madhusundar Singh
Trivandrum Bible College
Favorite Bible Verse:
" Do not fear, I am with you. Do not be anxious, for I amyour God. I will strengthen you, and I will help you, and I will uphold you with the right hand of my deservedvictory."
-Isaiah 41:10
Madhusundar Singh's Testimony
Degree:
Master of Divinity—Year 1
Family:
There are seven in my home, which include: father, mother, younger brother, his wife, his son, a younger sister, and me. My father is an independent pastor serving the tribal group called the Adivasi and my mother is a homemaker. My whole family is serving the Lord in some capacity in our community.
Prayer Requests:
· Please pray for my father's local church. We are going through a lot of difficulties
· Pray that God will honor His calling on my life to see a youth ministry started and churches planted


When I knew that God had called me to full time ministry as a church planter.

The most difficult challenge will be the opposition from the Hindu fundamentalist movement called the RSS. My father often faces opposition and persecution. We are threated often to cease sharing the gospel.

Some people are not happy with Christians because they are made to believe from the RSS that if you believe in Christ, they will make you drink the sacred cow blood. Another obstacle is that Christians deceive Hindus by offering money to betray their Indian heritage. The most challenging obstacle is the fear of the RSS. They have intimidated many in our communities to not believe Christians and if they do, they will be ostracized.

That my community will be understand that Jesus is the answer to their deep spiritual needs and that through a vibrant youth ministry, many local churches and home fellowship will be planted.
Help me reach my sponsorship goal
Help Madhusundar get fully sponsored. Choose a slot amount below.
Total Sponsors Needed

2

Sponsors Received

0
Sponsor Madhusundar Singh
Step 1 | When you choose to sponsor a student you are making an impact on their life.