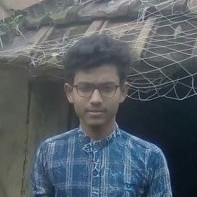 Pritish Jana
Trivandrum Bible College
Favorite Bible Verse:
"Whoever dwells in the shelter of the Highest will rest in the shadow of the Almighty2 I will say of the Lord, "He is my refuge and my fortress, my God, in whom I trust."3 Surely, he will save you from the fowler's snare and from the deadly pestilence.4 He will cover you with his feathers, and under his wings you will find refuge; his faithfulness will be your shield and rampart.5 You will not fear the terror of night, nor the arrow that flies by day,6 nor the pestilence that stalks in the darkness, nor the plague that destroys at midday.7 A thousand may fall at your side, ten thousand at your right hand, but it will not come near you.8 You will only observe with your eyes and see the punishment of the wicked.9 If you say, "The Lord is my refuge," and you make the Most High your dwelling,10 no harm will overtake you, no disaster will come near your tent.11 For he will command his angels concerning you to guard you in all your ways;12 they will lift you up in their hands, so that you will not strike your foot against a stone.13 You will tread on the lion and the cobra; you will trample the great lion and the serpent.14 "Because he[b] loves me," says the Lord, "I will rescue him; I will protect him, for he acknowledges my name.15 He will call on me, and I will answer him; I will be with him in trouble, I will deliver him and honor him.16 With long life I will satisfy him and show him my salvation. "With man this is impossible, but not with God, all things are possible with God"
-Psalm 91
HomeTown:
Sundarban Islands, West Bengal
Degree:
Bible Diploma—Year 1
Family:
My name is Pritish Jana. My father is Pasupati Jana and mother is Fulashari. My father is a farmer, and my mother is a house wife. I was born and brought up in a Christian family. In my family, my grandfather was a pastor and the spiritual leader.
Prayer Requests:
· Pray for me as I continue my studies and that I will be equipped to do the work God has called me
· Pray that God will open doors as a church planter on the Sundarban Islands


My grandfather always encouraged me and prayed that I would attend Bible school. It was from a young age that I knew that I wanted a Bible education.

There will be two challenges, 1) my youth and 2) coming from a religious minority.

The biggest obstacle will be the intense opposition from both the Hindu and Muslim communities to the me as a Christian.

My vision is that unreached islands in the Sundarbans will be reached with the gospel.
Help me reach my sponsorship goal
Help Pritish get fully sponsored. Choose a slot amount below.
Total Sponsors Needed

2

Sponsors Received

0
Sponsor Pritish Jana
Step 1 | When you choose to sponsor a student you are making an impact on their life.