The Baja region of Mexico is home to communities in physical and spiritual need. The privilege of bringing tangible necessities in addition to love, HOPE, and the gospel to these communities is an exciting one. We invite you to join us!
GROUP MISSION TRIPS TO MEXICO
Baja, Mexico has many service opportunities for groups like yours. Could your group provide necessary healthcare? Many families in this region of Mexico struggle to afford healthcare and end up without standard checkups or access to care when they need it. A group of medical staff interested in mission work can help by hosting medical clinics in these communities.
Stable housing is another common need in the Baja region. Many families arrive in Baja looking for work, but without the funds to purchase a suitable home. Your team can assist in the construction of new homes for these families which provides not only shelter, but helps maintain health and offers HOPE for the future.
As in many other countries, there are many children being raised in orphanages in Mexico. Often, children are sent there not because they have lost their parents, but because their parents cannot provide for them. These young ones need love, affection, and encouragement. Children with special needs are also in need of genuine care. In Mexico, your team will have the opportunity to work alongside our partners to shower these children with love and attention while sharing the gospel.
To learn more about service opportunities in Mexico, read more on our partners and initiatives below.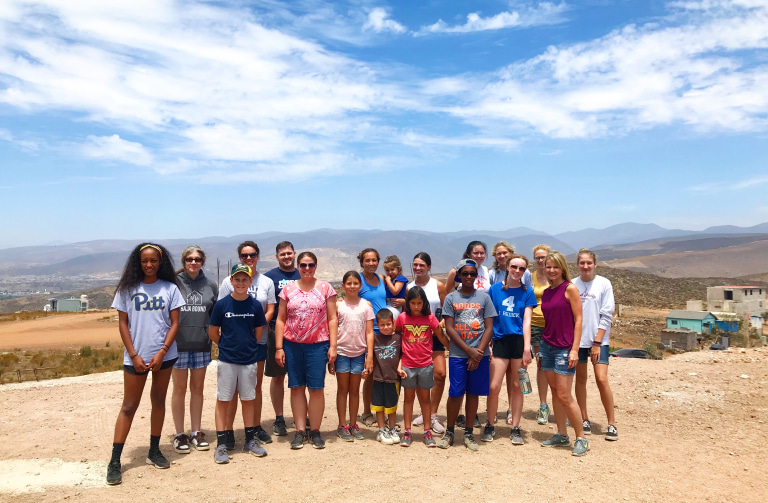 Ensenada, Baja California, Mexico
Baja, Mexico
We partner with an organization that has been committed to building homes for the working poor in the Baja region of Mexico since 2004. As families move in search of work, many find themselves living in less than suitable conditions. Tarp roofs, plywood walls and dirt floors are not uncommon - the goal is for that to change. Beyond just providing physical shelter for these families, there is true value in working alongside local orphanages and offering educational scholarships to children and youth in need. When your most basic needs are met, education is the next step toward breaking the cycle of poverty.
Mexico Hope Initiatives
HOPE initiatives in Mexico are projects undertaken by our local non-profit partner with the aim of inspiring HOPE in the community they serve. Bold Hope comes alongside the long-term vision of this faithful organization to provide support in the form of short-term mission teams.
Why should you partner with Bold Hope?
Bold Hope ensures that your team's mission trip to Mexico makes a genuine difference. It is our HOPE that you'll not only impact lives, but that your life will be impacted by the work that your team does - from connecting with children in orphanages to helping build homes for struggling families.
There are a lot of decisions to be made when planning a mission trip. At Bold Hope, we have the experience and connections that make organizing your trip easier. When you work with us, we take care of the details. Many similar organizations offer church floors as sleeping accommodations for their trip participants. While in Mexico, beach house lodging will be provided where essential amenities and clean water are available. A good night's sleep will allow you to be fully rested and ready to serve the community throughout your stay.
Contact Bold Hope for More Information on Group Mission Trips to Mexico
A mission trip is a fantastic opportunity to grow, connect and empower a community in need of HOPE. At Bold Hope, we provide safe accommodations and resources that will help you make a real difference. We also have trips available year-round, so it's never too late to start planning.
If you're ready to get started, contact us today to learn more about our mission trips to Mexico and beyond.
Interested in a trip to Mexico?
Please fill out this form and a Bold Hope team member will be in touch!