Take Action!Step Outside of Your Comfort Zone!

12 Countries Available!

Swipe
MEET YOUR SPONSORED CHILD | SERVE ALONGSIDE MINISTRIES | IMPACT A COMMUNITY
Take part in an adventure of a lifetime.
We're ready are you?
Mission trips with Bold Hope are a unique combination of service and cultural experience. Connect with locals. Eat regional food. Visit notable landmarks. Love on vulnerable children. Build a house. Run a soccer camp. Share the gospel. Wonder at the beauty of God's creation.

No matter where you go or how you serve, a mission trip is something you will remember forever. Your time abroad will give you a personal view of what it's like to live in some of the world's most impoverished countries. The children you'll meet and the ministries you'll support will likely leave a lasting impact beyond what you could have ever imagined. Sign up for your life-changing adventure today!

PLAN A TRIP FOR YOUR CHURCH, SCHOOL, COMPANY, OR COMMUNITY ORGANIZATION.

Whether you are passionate about a specific location or simply have a heart to serve, we need you! Choose a location below to find out more about the need in that region and some of the specific ways in which we partner with ministries to provide hope to the people there.
Volunteers' Experiences
---
Still having trouble deciding where to serve?
Read what fellow volunteers have to say about their journeys.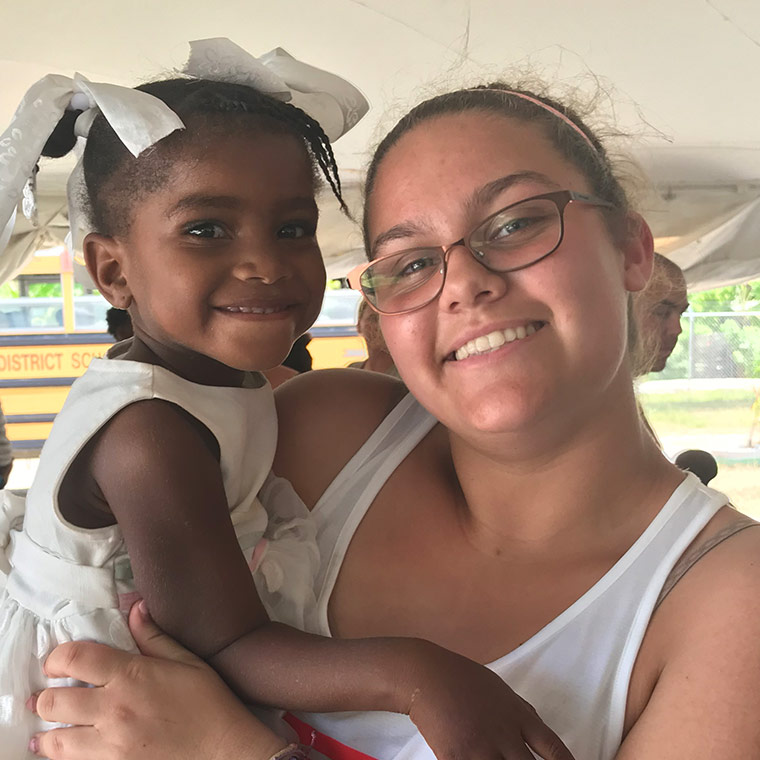 Location: Haiti
Going to Haiti has been one of the most inspiring experiences of my life. I love being able to go back each year to reunite with the children I met on my past trips. Seeing the changes made on the Poverty Resolutions site is truly remarkable. The first time I went to Haiti, the site was small, and only contained a small tent, the main building and the kitchen. Since then, they have built a medical center, kindergarten, basketball court, and playground. My favorite part of my trips is spending time with the children during VBS and at a local orphanage ....

Read More...

Watching the kids sing, dance, and play is so inspiring to me. No matter what some of these children are going through at home, they show up to Vacation Bible School with smiles on their faces, ready to learn about God. I can't wait to see what God is planning for Poverty Resolutions in the future.
- Rebekah Bredow
Location: Haiti
I first traveled to Haiti with our church in March of 2017 and had a great time of ministry and fell in love with the Haitians. I worked with our medical team helping set up and praying for the Haitians that came through our clinics. During a neighborhood walk two of our ladies elected to sponsor two brothers. I thought about doing the same but wanted to talk to my wife as we do sponsor other children with other ministries. During the year things got lost and we didn't go ahead with sponsorship. When I returned in March of 2018 ....

Read More...

I met up with the two brothers and I was amazed at how they were doing. They both had put on weight and were so happy. In other words they were prospering.

Having already talked to my wife I went ahead and sponsored a little boy, Sony. Now I can hardly wait to see him during our next trip in March, 2019. I know that Poverty Resolutions has helped him prosper and he is happy.

I think Poverty Resolutions has a remarkable ministry to the people of Haiti and we are so glad to be a part of it.
- Robbie Robertson
Location: Haiti
I have had the privilege of traveling to Haiti to serve with Poverty Resolutions several times. Over the last 20 years I've lead and participated in many service-oriented trips with many different organizations. After every trip, I always left questioning whether the funds, resources, and time could have been utilized in more effective ways to serve the community. Much of this had to do with the sense that our week-long project was just that…a week-long effort with no real long-term connection to the community. My experiences in Haiti with ....

Read More...

Poverty Resolutions have been dramatically different. My experiences in Haiti with Poverty Resolutions have been dramatically different. Poverty Resolutions allows us to be a part of projects and work that began long before we arrived on the scene, and will continue long after we leave. There is a real sense that you are part of a long-term commitment to a community. Working with Poverty Resolutions is also about partnering with the local people in serving their community, as opposed to the "savior mentality" that so many other short-term service projects seem to foster. You walk away with a strong sense that you have joined with the larger global body of Christ serving to advance His kingdom together. The last, and perhaps the most significant, difference I'll mention is the ability to continue our partnership with the local communities PR serves from home. I have appreciated the opportunity to sponsor children and youth that we have served so they can continue to receive education, food, clothes, care, etc. Additionally, I've been able to be a part of local stateside efforts to boost the mission of PR, another opportunity to continue the partnership and contribute to real long-lasting change.
- Eric Smith